Our first West African country to visit in 2010 was Togo. We were docked in Lome, Togo on the Africa Mercy which is a faith based NGO that provides much needed surgeries and medical training to the poorest countries in the world. We volunteered as Chaplains to support the international crew from 2010 through 2014. While in Togo, I became friends with a local pastor named James Adoukpo.
Along with being a full time minister, Pastor James volunteered with Mercy Ships to help with daily maintenance.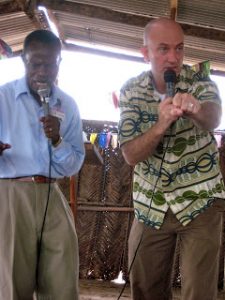 He taught me African songs and phrases and most of all he taught me that hope and joy are not a result of wealth but rather a resilient spirit forged over time. Pastor James is a man always with a big vision to reach out and help the helpless and hurting people in his country. He follows the model of Jesus to love those in need, especially widows and orphans. Pastor James practices what he preaches and houses many other people along with his family.
Which brings me to the point of this blog. Pastor James has been renting a home for years and when Covid-19 reared its ugly head in March 2020, his landlord gave him notice to vacate the property. Thankfully, Pastor James has been building a new home over the past decade but as with most projects in Africa, the progress is slower than what we would expect in more developed nations.
I have given financially to help with this house project over the past several years and there has been progress as you can see. But the big push right now is to finish the roof to make it liveable. Pastor James has most of the materials for the roof but needs to pay for the labor and remaining supplies. It was a $10,000 project but after a few donations we have it down to a need for $6,000 for him to finish this roof and house his family. Time is of the essence. The needed funds are simply to finish the roof. There will still be other needs to do the finish work but with a roof, the family can move in and be protected from the rains.
One more thing, this house he is building is not just for him and his family. As I said before, Pastor James is always a man of big vision so he decided to make room in this new home to give lodging to missionaries and international workers that are helping out in Togo. He and his wife have a heart for hospitality and housing people is their way of giving back to the people who come to Togo to help the helpless.
I hope that you will consider giving a donation to finish this house for Pastor James. You can give a tax deductible donation through 4HIM Ministries led by Steve Hollingsworth. Steve has been working with Pastor James helping him with his church and starting projects that help provide income to the family and church. 4HIM will pass on all donations directly to Pastor James' house project.
Click here to Donate Now and be sure to notate your giving to "Pastor Support Africa." In the notes section type in "Home for Pastor James."
If you have any questions about this project please feel free to contact me directly. If you prefer to mail a check make it payable to 4HIM and notate "Pastor James Home" on the check and mail to: PO Box 32291, Edmond, OK 73003.
Thank you so much for considering a donation to this home.