Meet Marty
My mission is to help others navigate through the ups and downs of life. I see life as a road. Even in the midst of one day in our life we can experience a smooth, easy ride and then around the next turn we hit a pothole. I believe that we all have an opportunity to travel new roads even in the midst of hurt and pain in our lives. I am privileged to be able to help people through struggles of depression, anxiety, unforgiveness, grieving the loss of loved ones, addictions, and relational difficulties. I believe that working with a therapist can be a life changing process that can benefit anyone who devotes a little time and energy to it.
I have worked much of my life helping and encouraging people. Growing up in Texas, my parents and grandparents taught me the importance of the primary values of faith in God, hard work and service to others. I have worked for three decades serving others as a pastor of care and counseling with Cornerstone Church of San Francisco and as a chaplain for Mercy Ships in West Africa serving an international crew on board the world's largest non profit hospital ship. More recently, I have worked with at risk youth and their families in Sonoma County at Social Advocates for Youth. I currently volunteer as a Public Safety/First Responder Chaplain in my community of Petaluma, CA. In this role, I help first responders process the extreme stress and trauma they go through on a regular basis and also work with community members who have gone through trauma either related to crime or a death in their family. These experiences have formed and inspired me to continue helping others as a mental health therapist.
My background is varied and unique. I have a bachelor's degree in Political Science and a Masters of Music in Vocal Performance/Opera as well as a background in small business ownership (a video game room) and even worked in IT Support. In 2015, I earned a Masters of Counseling and in 2017 became licensed as a Marriage and Family Therapist in the state of California. I am a proud father of three children and a grateful husband to my wife of over 30 years.
I welcome the opportunity to work with you. I see people of all ages, faiths, beliefs and backgrounds in a nonjudgmental way. I will journey with you from where you are now and help you choose and navigate the best route for your life.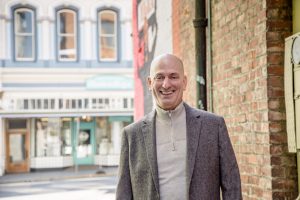 Start Here