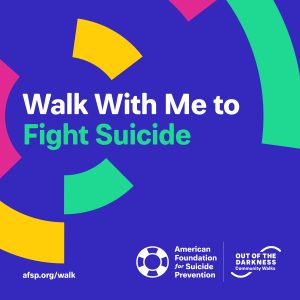 I'm pulling an all nighter in San Francisco…want to join me?
This summer on June 8th I'm going to do an ALL NIGHT walk through the city of San Francisco with thousands of other people who have been impacted by suicide.
Sound crazy? Want to join me?
What would you walk all night for?
I walk for Emma and her beautiful family. I got to know Emma when we lived on a hospital ship in Africa.
The first time I ever heard the song "I can only imagine" by Mercy Me  was when Emma sang it on a youth retreat as we led worship together.
I got to know her and her family as she began to struggle and I experienced the brutal pain with her family and community after she died by suicide. Today is Emma's 27th birthday. I miss her so much and wish that she were still here singing and blessing people.
Reducing the annual suicide rate 20% by 2025
The American Foundation for Suicide Prevention is an organization that is working hard to reduce the suicide rate by 20% by the year 2025.
That is a bold vision that I can be a part of with no reservation.
As a pastor, chaplain, and mental health clinician, I have experienced the impact that suicide has on people and I will not be silent on this problem.
Walk with me or give to the cause
Here are two choices to consider:
You can join me in the walk on June 8, 2019 (no matter where you live, fly into San Francisco and make it a vacation with purpose) OR I encourage you to give to my fundraising efforts.
I have an audacious goal of raising $10,000. I like to go big or go home so I'm going big.